Farthing Wood Class Has Fun Crafting Coronation Crowns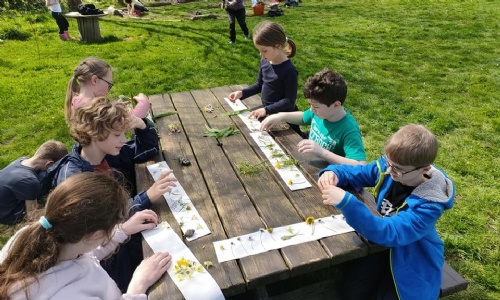 The students of Farthing Wood Class had an exciting and enjoyable Wild Tribe session as they embarked on a creative adventure, making their very own Coronation crowns.
Under the guidance of their teachers, the young minds of Farthing Wood Class delved into the world of crafting, armed with natural materials and a sense of adventure. There was a buzz of enthusiasm as the children eagerly took up the task, showcasing their artistic talents and embracing their imaginations.
Each child approached the task with a unique vision, incorporating their personal style and flair into their crown design. The students eagerly shared ideas, exchanged materials, and provided assistance to one another, fostering a spirit of teamwork.
As the session progressed, an array of crown prototypes were produced. From leaves and feathers to flowers and twigs, the children used nature's bounty to fashion their regal headpieces. The process encouraged them to think sustainably and appreciate the beauty found in the world around them.
The students displayed great dedication and perseverance as they painstakingly decorated their crowns, meticulously adding finishing touches to bring their creations to life. It was a testament to their patience and attention to detail as they took pride in their individual achievements.
The sense of accomplishment was palpable as they embraced their roles as Wild Tribes leaders, symbolising unity, respect for nature, and the power of imagination. Through the process of creating their coronation crowns, students learned the value of teamwork, resourcefulness, and sustainable practices.