Children Learn Gymnastics with Joy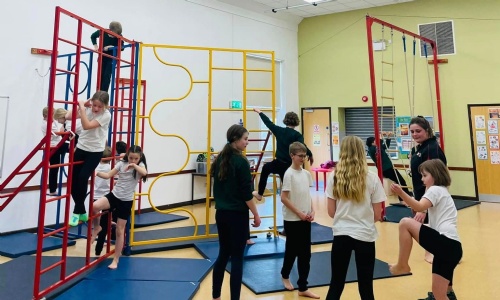 Gymnastics is an excellent way for children to develop their physical and mental abilities. At Trewidland Primary and Pre-School, we provide top-quality gymnastics coaching to our students using our wonderful equipment in our school hall.
Our children are enjoying every bit of this fantastic activity. It's a great demonstration of balance, precision, and strong cores.
Our gymnastics programme is designed to cater to children of all skill levels. We have experienced coaches who work closely with the children to ensure they get the most out of their sessions. We also provide a safe and supportive environment where children can learn and grow without fear of judgement or criticism.
In addition to the physical benefits of gymnastics, the activity also helps to boost children's confidence and self-esteem. They learn to set goals, work hard, and persevere through challenges, which are valuable skills that they can carry with them throughout their lives.
At Trewidland Primary and Pre-School, we are committed to providing our children with the best possible education and experiences. Our gymnastics programme is just one of the many ways we help our children grow and thrive. We are incredibly proud of our students' achievements in gymnastics and look forward to seeing them continue to develop and improve their skills. Well done, children!